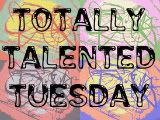 Here you can see the talents of my Taz. He is a natural born athlete. This video is of his very first homerun in t-ball. You can't see it, but he hit the ball over the fence, past the outfield. He does this regularly. His Daddy (Hubby) coaches the team and they are now into machine pitch.
Taz is a lefty and when he plays he makes it look so easy. Well, I guess for him it is. He typically plays first base but can field every position rather well.
He is my Totally Talented Taz!!
For more Talent viewing please hop on over to
Two of a kind
and check it out!