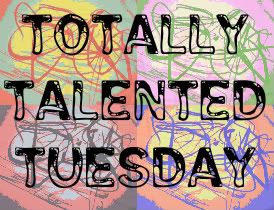 If you want to brag about the talent in your house, hop over to
Two of a Kind's
place to check out what to do. I will just say I have a LOT of talent to pick from in my house! This week I want to feature my oldest son, BA (yes that IS bad attitude sometimes).
Last night was his first concert for the band this year. It was hard to get a good picture of him while he was actually playing since the tuba would cover his face. I have to say I am SO proud of how well he plays his tuba and he is definitely a natural. He made second chair (sadly to the only girl tuba player) for the Wind Ensemble. For those of you that are not band geeks I will tell you that this means out of the entire band he is the second best tuba player out of the whole band group (well over 100 kids). Some go to Cadet Band, Symphonic Band and the best go to Wind Ensemble.
He really enjoys the marching band more than anything but he does great for concert too. I love sitting in the audience and I can easily pick out the sounds of his tuba. I like the deep bass sounds. We are hoping this talent will help with sending him to college.
Here is a pic of my handsome
talented
16 year old son and also a video from marching season last year that Uncle B took. BA (middle tuba) and his buddies were having a blast playing at a football game.