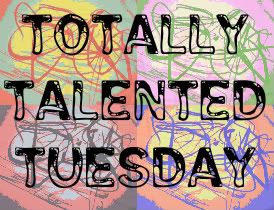 Wow! I had a tough decision trying to pick 'who' I wanted to feature in my first post of Totally Talented Tuesday from
Two of a Kind, Working on a Full House
's blog.
I figured maybe I would start with the 'lead' talent...my Hubby! He really does have to be the most talented man I know. He works with his hands all day displaying beautiful work with trim (yes, he's a trim carpenter by trade) but that will be for another talent post.
My Man can 'bring home the bacon AND fry it up in a pan' but he's no woMAN!
He loves to 'bake'!! Yes, we all love sweets and boy can he bake some awesome sweets. I can hardly wait 'till we have everyone over to our house for Christmas! He will be making dinner rolls, cinnamon rolls, pies, cookies, fudge, divinity and
cakes
. And...all from scratch!
So, while searching though my pictures, I came across the first 'decorated' cake he made. It was for Cd's first birthday and he did a great job! When SM's birthday came around we let him pick out what he wanted and Daddy made his too.
Tell me what you think.........
Elmo for CD

SpongeBob SquarePants for SM

If you would like to play this MEME then go visit
Two of a Kind
for more Talented Tuesdays!